Call Toll-Free 1-800-323-DUCK (3825) to order

Ridgway Mammoth White Pekins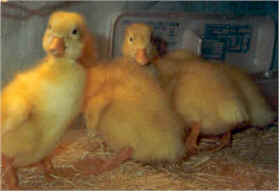 Our large hardy ducklings hatched from carefully selected breeders offer you virtually 100% livability. You can dress or market your quality ducklings at 6 to 7 lbs. in only 7 to 8 weeks! Raise 15 to 25 for your freezer, fun projects, or to complement your farm pond. Raise 100 to 1,000 for market and excellent eggs. Whatever your needs, you'll find RIDGWAY WHITE PEKINS fun, economical, and a real profit maker.
Indian Runners
Indian Runners are a good breed for the home duck flock, being ornamental and highly entertaining. Egg production averages 275 to 340 eggs per hen. Indian Runners are unique and practical with their upright posture, fast gate, and good laying quality.
Ridgway Rouens
Rouens are an excellent meat type duck. They are similar to White Pekins in size and weight. They attract attention whenever seen. The male is especially colorful, having a deep lustrous green head and upper neck, while the back is gray mixed with green. The female is barred on the wings with brown body color and penciling in all sections.
Muscovy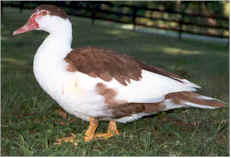 Muscovy ducklings have many distinguishing features. Their faces are covered with rough, red skin and drakes have a fleshy knob at the base of their bills. Drakes are nearly twice as heavy as the hens. Muscovies are excellent foragers and can utilize large quantities of grass. If good quality forage is available pasteurized ducklings required only light feeds of grain once daily. Muscovies offer a high profit potential with excellent holiday demand. Each hen can naturally product 30 ducklings per year.





Blue Swedish

Gray-blue in color with white bibs. Extremely hardy and an active forager. People interested in color will intrigued by this breed. Outstanding egg layer, they will produce eggs year round.

Mallard

Ridgway Genuine Flying Mallard Ducklings

Mallards are an excellent game bird and they are popular with sportsmen. Many a "disappointed" sportsman will pay a good price for genuine Mallards. Their coloring is beautifully brilliant and they provide a delicious delicacy for special dinner occasions. Mallards fly, but will stay at home if fed regularly. Trainers will use these gamebirds to train their dogs. Pinioning will not remove their wild quality.