$ Quicker starts $ Increased daily gains $ Less time to market $ Better feed conversion


RIDGWAY BROAD BREASTED WHITES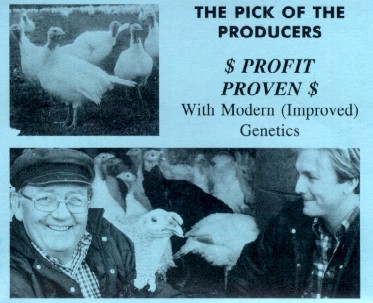 These truly large broad breasted white birds possess the market appeal and meat qualities you will need. These broad breasted white turkeys are bred for fast growth. With proper feed management you can expect a hen at 14 weeks to weigh 18 pounds dressed and in 20 weeks you'll have a 28 pound dressed tom. Livability is great! Order Ridgway's Large Whites - You'll be glad you did!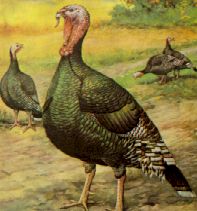 RIDGWAY BROAD BREASTED BRONZE
Ridgway is an exclusive producer of Broad Breasted Bronze in this area. The bronze turkey has a good growth rate, body confirmation and feed conversion. You can enjoy a big, beautiful bird with inherent vigor and livability. Great choice for free range.

TURKEY POULTS - March - August

15
25
50
100
150
200
250
Ridgway Large Broad Breasted Bronze...(Colorful)

134.00

248.00
426.00
710.00
6.90 ea
6.80 ea
6.75 ea
Ridgway Large Broad Breasted White...(Fast Growing)
134.00
248.00
359.00
610.00
6.00 ea
5.80 ea
5.75 ea
Ridgway Poults - Your Choice - If Available...(Good Buy)
126.00
165.00
312.00
520.00
5.15 ea
5.10 ea
5.00 ea
Bronze Hens/Toms
149.00
240.00
390.00
750.00
7.10 ea
7.00 ea
6.75 ea
White Hens
165.00
220.00
378.00
630.00
6.25 ea
6.20 ea
6.15 ea
White Toms
165.00
220.00
378.00
630.00
6.25 ea
6.20 ea
6.15 ea
Services Available: - Add $.25 each for banding, if requested.

CALL HATCHERY FOR HIGHER VOLUME ORDERS
Contact Us: ridgwayegg@aol.com